The Know Your Rights Comix series is designed to teach youth their rights in a clear, accessible way. We use a comic book storyline and simple language to explain legal information in order to empower youth to stand up for their rights.
We distribute these comics for free, or at cost (25 cents an issue) to organizations that can afford it. If you would like us to send you some comics, or if you want to assist us with printing and distribution costs through financial or in-kind donations, please contact us at
kyrcomix@midnightspecial.net.
Issue #1
In KYR Comix #1, Marquis and Josh are picked up by the cops, and must decide what to do next. The comic explains how to deal with questioning and searches by police. The information is geared toward youth of color but is good for everybody. 16 pages.
English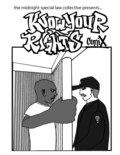 Spanish
Issue #2
KYR Comix #2 is about Anthony Rodriguez, a student who is being threatened with suspension by his vice-principal. This issue focuses on the rights of students in California schools, specifically the right to an advocate and the right to an alternative to suspension. Only available in CA. 16 pages.
English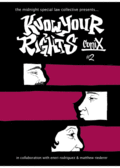 Spanish
Issue #3
This comic book helps Middle Eastern, South Asian and Muslim immigrants learn what to do when harassed by the FBI. In it, Mohammad and Sarah are questioned by FBI agents, who pressure them to inform on their neighbors. They don't want to betray their community, but don't know what to do - until Hardeep and Parveen tell them about their rights. 16 pages.
English