Midnight Special Disbanded
Midnight Special has disbanded as of July 2010. For an in depth look at our reasons for ending the collective, please click here. The Bay Area Legal Resource Network is now handling our training requests. They can be reached at legal.resource.network@gmail.com. We will leave this website up as a resource.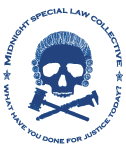 The
Midnight Special Law Collective
is an independent non-profit organization dedicated to providing legal trainings and accessible, relevant, democratic and accountable legal support to a wide range of activists participating in the struggle for social change.
We also foster the formation of community-based legal teams and law collectives nationally to achieve these goals on a larger scale by helping activists network with lawyers and by sharing our knowledge and practical experience.
By sharing information and refusing to allow the legal system to separate and silence us, we become wrenches in the wheels of the machine. Also, as activists demystifying the law we shatter the accepted limitations on learning - we assert everyone's right to access and everyone's ability to understand the law.